Today in history ...
in 1888, Vincent van Gogh cut off his left ear.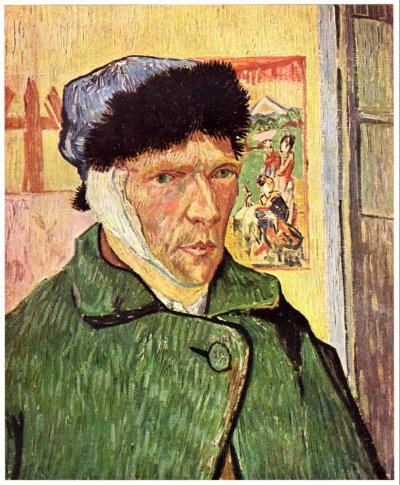 Soooo, partly in honor of my husband, who is a big fan of van Gogh, and partly because I was bored, I have compiled a list of some items you could buy for van Gogh lovers as last-minute Christmas gifts:
The Unemployed Philosopher's Guild
carries several items. There is the van Gogh doll with detachable magnetic ear
the coffee mug (the ear disappears when the mug is hot):
and then, my personal favorite, the pill box. It says
Crazy Things Happen If You Forget to Take Your Meds!
Shakespeare's Den
offers the van Gogh action figure. He comes with 2 interchangable heads--one prior to Dec. 23, 1888, and one after:
Or how about a charm? (I found these on ebay.) Very tasteful, don't you think?
Not
so tasteful is this t-shirt from
threadless
:
This shirt from
sendatee.net
is a little better. It says
Ear today, gone tomorrow
:
And last, but not least, you could always send them this chocolate ear from
favors to treasure
: